Online Services
Announcement
DSTICS Video Tutorial, Quick Manual and Mobile APK
This is in connection with the delivery of various program goods or items (DepEd Computerization Program – DCP, Textbooks and Learning Materials, Technical-Vocational-Livelihood – TVL, Science and Mathematics Equipment – SME and School Furniture). Upon arrival of the said goods or items in the designated delivery sites the Supply Officer or Property Custodian shall scan and update details and status on DepEd Supply Tagging and Inventory Control System (DSTICS) mobile/phone scanner application.
Prior to that activity, the Supply Officer and Property Custodian is advised to watch the video tutorial on how to download, install and use the aforesaid DSTICS mobile scanner application.
Note: Please download the APK File via ANDROID Mobile Phone.
Video Instruction: Download

Quick Manual for Scanning and Receiving Items: Download

Mobile App: Download

Quality Policy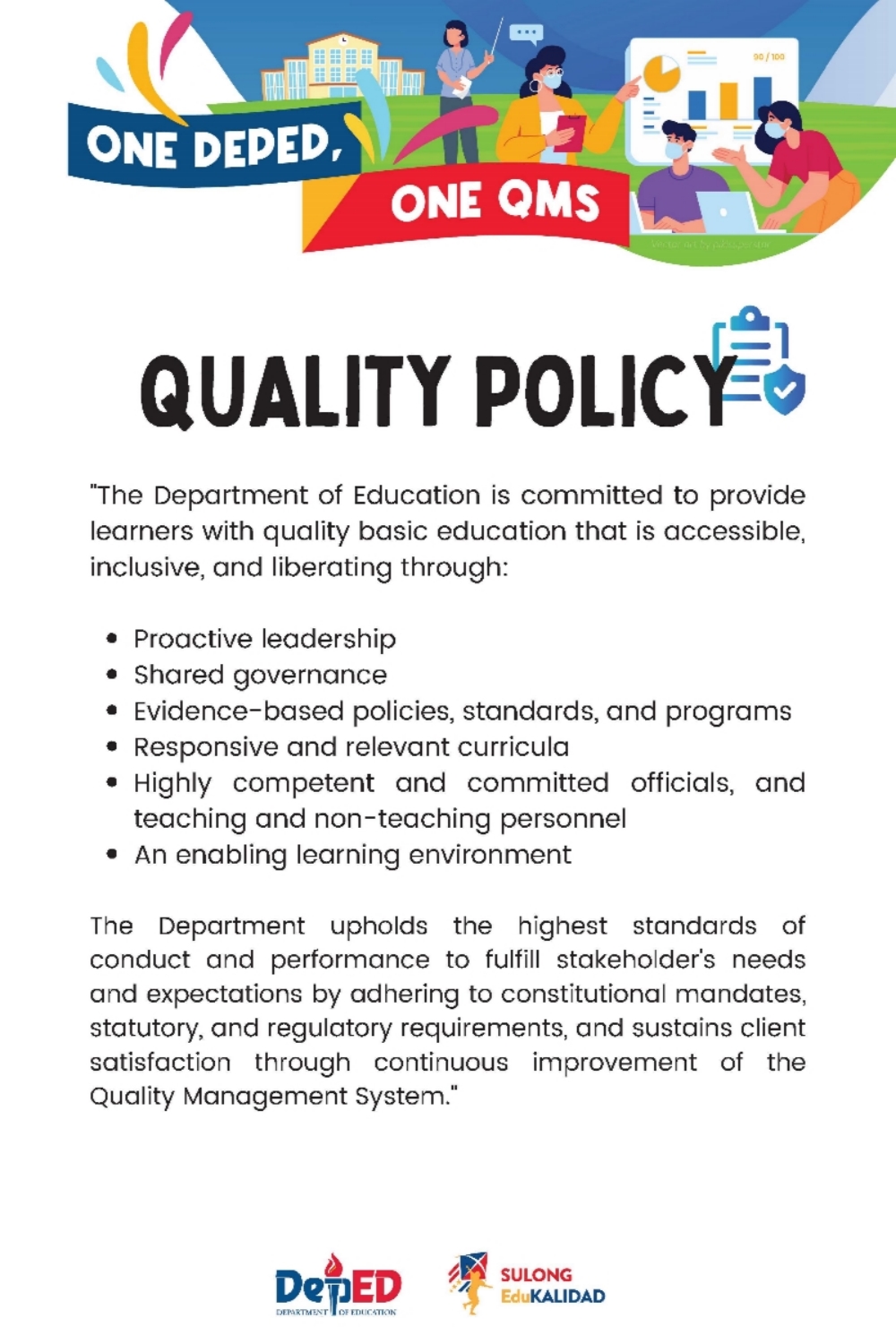 Latest Issuances
Numbered Memorandum
| Year | Memo No. | Title | --- |
| --- | --- | --- | --- |
| 2022 | 84 | DATA GATHERING AND VALIDATION OF NEAP SIM RECIPIENTS | Download |
| 2022 | 83 | CONDUCT OF COORDINATION MEETING FOR ELEMENTARY/SECONDARY SCHOOL HEADS AND SCHOOL READING COORDINATORS | Download |
| 2022 | 82 | NEAP SIM AND PROFESSIONAL DEVELOPMENT INFORMATION SYSTEM (PDIS) REGISTRATION | Download |
| 2022 | 81 | CHECKING OF BEIS FORMS FOR GESP, GJHSP AND PSP FOR PUBLIC AND PRIVATE SCHOOLS AND ONE-ON-ONE ONLINE VALIDATION ON THE YEARLY COLLECTION OF DATA/INFORMATION REQUIREMENTS FOR SY 2021-2022 | Download |
| 2022 | 80 | 124TH ANNIVERSARY OF THE NATIONAL FLAG DAY AND INDEPENDENCE DAY AND PROMINENT DISPLAY OF THE NATIONAL FLAG | Download |
Unnumbered Memorandum
| Year | Title | --- |
| --- | --- | --- |
| 2022 | PHILIPPINE RED CROSS SORSOGON CHAPTER FUND DRIVE CAMPAIGN | Download |
| 2022 | SUBMISSION OF NOMINATION TO THE TRAINING-WORKSHOP ON THE USE OF ADOBE SOFTWARE & OTHER MULTIMEDIA TOOLS FOR SDO SORSOGON | Download |
| 2022 | PATROL LEADERS' TRAINING COURSE FOR JUNIOR TROOP LEADERS AND JUNIOR GIRL SCOUTS | Download |
| 2022 | GSP DISTRICT COORDINATORS' MEETING/UPDATES | Download |
| 2022 | SDO SINGING AMBASSADORS' PRACTICE (APRIL 27-29, 2022) | Download |
Advisory
| Year | Title | --- |
| --- | --- | --- |
| 2022 | (DIVISION MEMORANDUM NO. 42, S. 2022: DIVISION SELECTION AND RECRUITMENT OF SENIOR HIGH SCHOOL TEACHERS FOR SCHOOL YEAR 2021-2022) | Download |
| 2022 | Pursuant to Division Memorandum #253 s. 2021 Gawad Siklab and Digital Literacy Program (MS Teams), this Office scheduled the said activity on May 26, 2022 at the Bulwagan ng Karunungan, SDO of Sorsogon, Balogo Sports Complex at 9:00 a.m. | Download |
| 2022 | ADMINISTRATION OF SPECIAL ENGLISH PROFICIENCY TEST (EPT) FOR IDENTIFIED TEST TAKERS | Download |
| 2022 | ADMINISTRATION OF SPECIAL ENGLISH PROFICIENCY TEST (EPT) FOR IDENTIFIED TEST TAKERS WITH ONLINE CONCERNS | Download |
| 2022 | REGIONAL GUIDELINES ON THE CONDUCT OF WORK IMMERSION FOR SCHOOL YEAR 2022-2023 | Download |